"One of the beekeeper's very first tasks must be the study of bee behaviour and the adaptation of himself if he wishes for sucess."  – Brother Adam, Beekeeping at Buckfast Abbey

Meetings 2nd Tuesdays ( Sept., Nov., Jan., March, and May) 7-9 pm – Manassas Church of the Brethren, 10047 Nokesville Road (Rt.28)
Weather Policy – We follow PW County School on closures & emergencies (NEW!!!).
Next club meeting Tuesday, March 13th 
*** Click here or on the Calendar tab above to see other programs planned in the region ***

*** PWRBA  featured  on National News – Click here Honeybees Get Human Helpers ***

The Prince William Regional Beekeepers Association is open to all persons regardless of where they live or where, or if, they keep bees.  Our club strives to:
Provide a forum for the exchange of ideas and views of mutual interest to beekeepers.
Provide education on the practical aspects of beekeeping and encourage the use of better and more productive methods in the apiary.
Foster cooperation between members of the association.
Promote understanding and cooperation between the association and the community with regard to beekeeping.
Promote the use of honey and honey products.
Our club brochure is here- http://pwrbeekeepers.com/about-2/pwrba-brochure/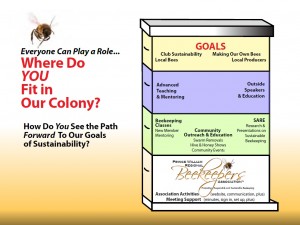 Our path forward to sustainability is here- http://pwrbeekeepers.com/about-2/sustainability-plan/